Miklós Sebők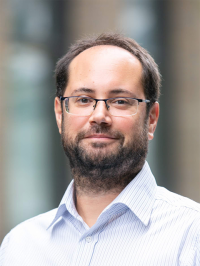 Download CV
Research Professor (MTA TK PTI)
Department: Department for Government and Public Policy
Academic Title: PhD
Email: sebok.miklos[at]tk[dot]hu
Phone: + 36 1 224 6700 / 5255
Building: T (Floor, room: 2.22.)
Research Interests
Comparative Politics; Legislative Studies; Political Economy; Text Mining
Selected Publications
2018 Institutional Entrepreneurship and the Mission Creep of the National Bank of Hungary. Caner Bakir, Darryl S L Jarvis (eds.) Institutional Entrepreneurship and Policy Change. Basingstoke: Palgrave Macmillan. (forthcoming).
2017 Exercising Control and Gathering Information: The Functions of Interpellations in Hungary (1990-2014) (co-authors: Bálint Kubik; Csaba Molnár). Journal of Legislative Studies, 2017(4).
2017 Incrementalism and Punctuated Equilibrium in Hungarian Budgeting (1991-2013) (co-author: Tamás Berki). Journal of Public Budgeting, Accounting & Financial Management, 2017:(2) pp. 151-180.
2016 Kvantitatív szövegelemzés és szövegbányászat a politikatudományban (Quantitative Text Analysis and Text Mining in Political Science). Editor, author on multiple chapters. L'Harmattan, Budapest.
2015 Delegation and the Crisis­Driven Political Development of Bailout Institutions: The Case of Japan Between 1992 and 2003. Japanese Journal of Political Science, 2015:(4) pp. 459-488.
2015 Who Decides in Times of Crisis?: A Comparative Examination of Bureaucratic Delegation in 4 EU Countries (2008-2010). Journal of Comparative Politics, 2015:(2) pp. 38-52.
2014 Hatalom szabályok nélkül ­ Kormány és törvényhozás viszonya pénzügyi válság idején (Power Without Rules – Executive-Legislative Relations in Times of Crisis). Új Mandátum, Budapest.
Research Projects
Principal investigator: Text Mining of Political and Legal Texts. Funding: CSS HAS Incubator (2017-2019). Website: qta.tk.mta.hu
Principal investigator: The Quality of Public Policy in Hungary: A Big Data Approach. Funding: NKFIH-FK (2017-2019).
Research director: Hungarian Comparative Agendas Project (CAP). Funding: OTKA-K (2013-2017). Website: cap.tk.mta.hu